Nursing Distance Education Resources: Home
Last Updated:
Aug 25, 2022 5:30 PM
---
Welcome
The University at Buffalo's Abbott Library provides library services to students who are at off campus locations. This support is designed to assist distance education students in Nursing who attend classes remotely and access information resources from a non-campus location.
Some UB Libraries resources, including those marked UB Only, are provided for academic research to University at Buffalo faculty, students and staff only and require a login when accessed from off the UB computing network.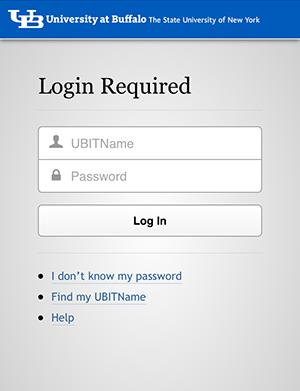 Off-campus users will be routed to the requested resource through the EZproxy software when a resource requires authentication. When prompted, enter your UBIT name and password.
FAQ
How do I access the Abbott Library (HSL)?
There are multiple ways to connect to the HSL and ask for assistance, some of which necessitate that you login prior to contacting the HSL. Among the most used are:
Directly connecting to the HSL homepage
Ask HSL, the Library's email askHSL@buffalo.edu
Chat service connection vis Instant Librarian.
Phone general reference assistance at HSL, 716-829-5683
---
How do I retrieve Course Reserves?
In order for students to have access to course-related materials, instructors will often place items on Course Reserve via the Libraries. Students looking for items on reserve can go to the site and search via the course number. If you don't know the number of the course, it can be retrieved by a login at MyUB to see your course schedule.
---
What is Delivery+?
Delivery+ is the free document delivery service of the UB Libraries to provide materials to students. Journal articles are delivered to students electronically via your Delivery+ account.
If you are a first time user you need only register once at the Delivery+ registration page using your UBIT name and password.
---
How can I circulate a book?
Circulation for those students at remote locations needs to be requested via Delivery+
---
Can I get to the Library from UB Learns?
Once logged into your UB Learns account the Library has a direct link from that page.
---
Can I get to the Library to see what I have checked out, renew a book or pay a fine?
From the University Libraries' homepage go to My Account, which requires that you are logged in. There you will be able to: view your checked out items, view and pay a library fine/fee, place requests and recalls and renew your borrowed books online.
---
How can I contact my liaison?
The School of Nursing liaison is Amy Lyons, she can be reached via email at alyons@buffalo.edu or via phone at 716.829.5719.