Topographic Maps: Historic Buffalo
Last Updated:
Jun 10, 2022 8:38 AM
---
Historic Buffalo
Historic Maps in UB Libraries
Various historical maps of New York and Erie County are available in the Map Room Reference Collection. These maps are arranged alphabetically by state then by place name. Please refer to our map index page for help finding the topo you need.
Please call the Lockwood Memorial Library Reference Desk (716-645-2820) or via e-mail library@buffalo.edu to set up an appointment to use these maps.
Sample historic topographical maps of Buffalo
---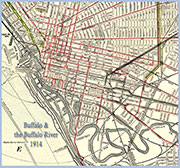 1914 Map of Niagara River and Vicinity [Scale 1:62,500]
Map Rm Ref Alphabetically by title
---

1948 Map of Buffalo, NY [Scale 1:62,500]
Map Rm Ref Alphabetically by title
---

1901 Map showing the University of Buffalo (now South Campus)
[Scale 1:62,500]
Map Rm Ref Alphabetically by title
---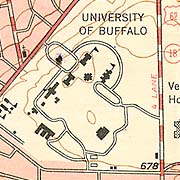 1950 Map showing the University of Buffalo (now South Campus)
[Scale 1:62,500]
Map Rm Ref Alphabetically by title
---

1901 Map of Delaware Park
[Scale 1:62,500] (281 KB JPG image)
Map Rm Ref Alphabetically by title